Premios recibidos
FIE 2020 Education Society
2020 IEEE Education Society Edwin C. Jones, Jr. Meritorious Service Award "For promoting pioneering contributions and high-level activities for the members of the IEEE Education Society". Recibido por Oscar M Bonastre.
FIE 2020 Education Society
2020 IEEE Education Society Student Leadership Award "For participation in educational projects adding value to allow professional and personal growth". Recibido por Pedro Plaza.
FIE 2020 Education Society
2020 IEEE Education Society Distinguished Chapter Leadership Award "For improving and developing new methods of collaboration and activities inside the Spanish Chapter of the IEEE Education Society". Recibido por Manuel Caeiro.
Más información sobre los premios anteriores disponible en https://ieee-edusociety.org/ieee-education-society-2020-awardees
FIE 2017 Education Society
Premio a Gabriel Diaz con el Chapter Leader Achievement Award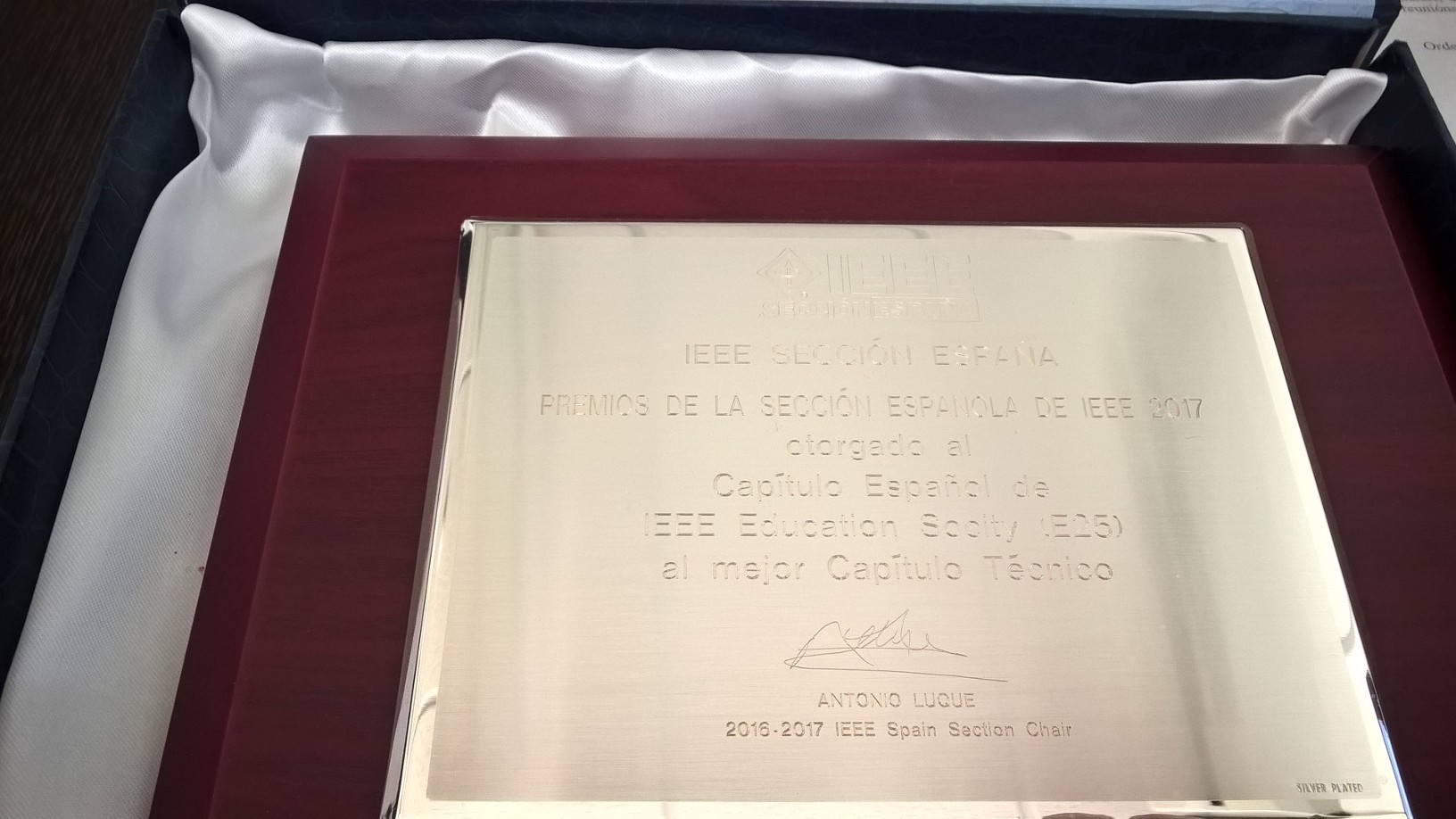 2017 IEEE Spanish Section
Premio de la Sección Española del IEEE al mejor capítulo técnico
2011 - IEEE Education Society Chapter Achievement Award
Concedido por la Sociedad de Educación del IEEE "In recognition of the Chapter as an inspiring model of technical activities, membership recruitment and services, and for outstanding leadership".
2011 Best Large Chapter Award - IEEE Region 8
Otorgado por la Región 8 del IEEE que aglutina a todos los países de Europa, Oriente Medio y África. o
2011 EDUCON Meritorious Service Award
2011 recipients are Dr. Edmundo Tovar and Dr. Manuel Castro for outstanding contributions to the administrative and management efforts for the IEEE EDUCON conference.
2011 Premio ATOS-Origin
Recibido por Sergio Martín, miembro de la directiva del Capítulo "A la mejor tesis doctoral". El premio fue entregado en las II Jornadas de eMadrid, el día 1 de junio de 2011.
2010 IEEE Education Society Distinguished Member Award.
Otorgado por la Sociedad de Educación del IEEE a Manuel Castro:"For outstanding service to the IEEE Education Society, especially within the Spanish/Portuguese-speaking community, and for significant contributions to distance learning in electrical and computer engineering education"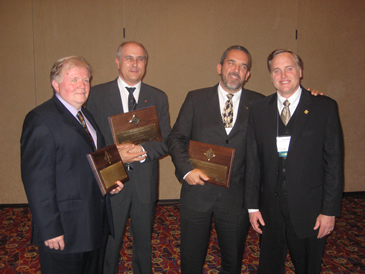 2010 IEEE Education Society Distinguished Chapter Leadership Award
Otorgado por la Sociedad de Educación del IEEE a Martín Llamas: "For exceptional contributions and leadership, which have been manifested at the Chapter and Regional level"
2010 – Premio JUAN LÓPEZ DE PEÑALVER
Galardonado: Francisco Falcone Lanas "Por sus investigaciones teóricas, desde la Universidad Pública de Navarra, sobre metamateriales electromagnéticos usando tecnología planar y de circuito impreso, de gran interés científico, y el desarrollo de sus aplicaciones, lo que ha dado lugar a la creación, con su participación como fundador y gerente, de una nueva empresa tecnológica"